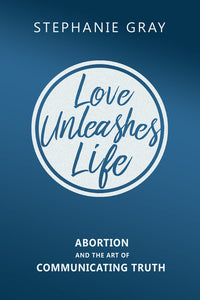 Love Unleashes Life: Abortion and the Art of Communicating Truth
Regular price $25.00 Sale
Love Unleashes Life: Abortion and the Art of Communicating Truth is a practical book designed to train readers how to have compelling and compassionate encounters when discussing abortion.  Applying the methods of asking questions and telling stories, it engages and equips readers to provide a strong intellectual case for the pro-life message, as well as to reach those who have wounded hearts.
What are people saying about the book?
"Stephanie Gray has got it right…This book teaches the loving attitude, respectful disposition and communication techniques needed to succeed in this vital work of tough love." 
–Bishop Thomas Olmsted, Diocese of Phoenix
"This book is a must-read for anyone interested in reaching hearts and minds about the greatest human rights issue of our day. With clarity and compassion, Stephanie makes an air-tight case for life, and masterfully equips us to do the same." 
–Lila Rose, Live Action
"Stephanie Gray is incredible. She combines a razor sharp mind with a winsome apologetic that is truly engaging, even to critics."
–Scott Klusendorf, Life Training Institute
Read Allan Ruhl's book review here.
Here is the story that inspired the title:
It all began in 2008. 
I met the tiniest 6-month old baby I'd ever seen on a trip my mom and I took to Romania. The child, Maria [not her real name], weighed only 6 pounds. 
When you stroked her face to tickle her, she wouldn't even crack a smile.
She was flat.    Emotionless.    Unloved.
I presume all she had known from conception to then was abuse and neglect. She drew no attention to herself because no attention was ever given her. 
But then something changed. 
Suddenly she was held.  And rocked.  And sung to.  Suddenly she was kissed and cuddled.  Her light—her life—was unleashed by my mom's love, and it was amazing what happened next: she smiled, she laughed, and her cries made sound.
Love unleashes life.
It's a concept.  An idea.  And when applied to encounters with our fellow humans, it is transformative.
How many more "Maria's" are in our own backyard?  Travelling the world for more than a dozen years, and speaking to people about the controversial topic of abortion, has led me to many encounters with the lonely, the broken, and the abused.  How do we reach peoples' heads and their wounded hearts on this issue that in some way affects us all?  How do we hold conversations with kindness?  How do we balance truth and love so that we preserve the lives of the pre-born as well as awaken the lives of the born?